Monday, July 20, 2015
Hello, ladies and fellow Swirly Savages! I just wanted to remind you of all the wonderful challenges going on in the Swirlydoos
forums
. We have some challenges very near deadline and some that will go until the end of the month. So, let me first tell you about the June "All that Flutters" challenge since it will be closing Monday, June 20th, at midnight. That's today!
This challenge is all about using the June kit to create a layout, project, or card using anything that flutters
i.e butterflies, dragonflies bees, ladybugs, birds, fairies…etc!
Here are some creations by our talented members.
Sherri created this beauty.
And, here's one created by Ginny.
So, get your entries in by June 20th to be eligible to win a prize from me!
Next, I would like to share our Swirly Girl Challenge aka SGC for July. You can find all the details here. This challenge is being hosted by one of our members, Mellisa. Her challenge is
to create any layout OR tag that represents your mood. Maybe you are a little sad? or maybe excited about an upcoming vacation or event……anything.
I know our moods can change with the weather, but I know I find myself stuck in a groove of feeling sometimes that lasts a week or two. SO – whats your mood?
Deadline for this challenge will be August 2.
Every month DT member, Maggi, hosts a tag challenge. She shares a new technique with us each month. This month's challenge can be found here.
Virginia created this lovely piece of work for the challenge.
The tag challenge will close on July 31st and the winner will receive a RAK from Maggi.
Each month we have the Round Robin Challenge. We still have some spots available the last week of July. You can look for sign ups for August towards the end of this month. Anyone is welcome to participate. I think it has always been a favorite for me. I love seeing the lifts each week! And, it certainly will help you find your lost mojo. Check out the challenge this month. The topic, A Salute to the Uniform, is a perfect topic after celebrating the Fourth of July.
Andie created this beauty featuring some of the Swirly Savages at Swirly camp in May.
And, our very own Swirly Queen, Krissy, participated in the challenge this month. She created this work of art featuring her grandfather.
You gotta love it! And, I get to lift this baby!
Please visit the forums and check out the current challenges and be on the look out for new ones soon. The June sketch challenged closed on July 15th but look for the July sketch challenge soon.
Here are some member entries for the June sketch challenge that you are going to love.
This one was created by Miss Peggy.
Sherri created this one starring her fur babies.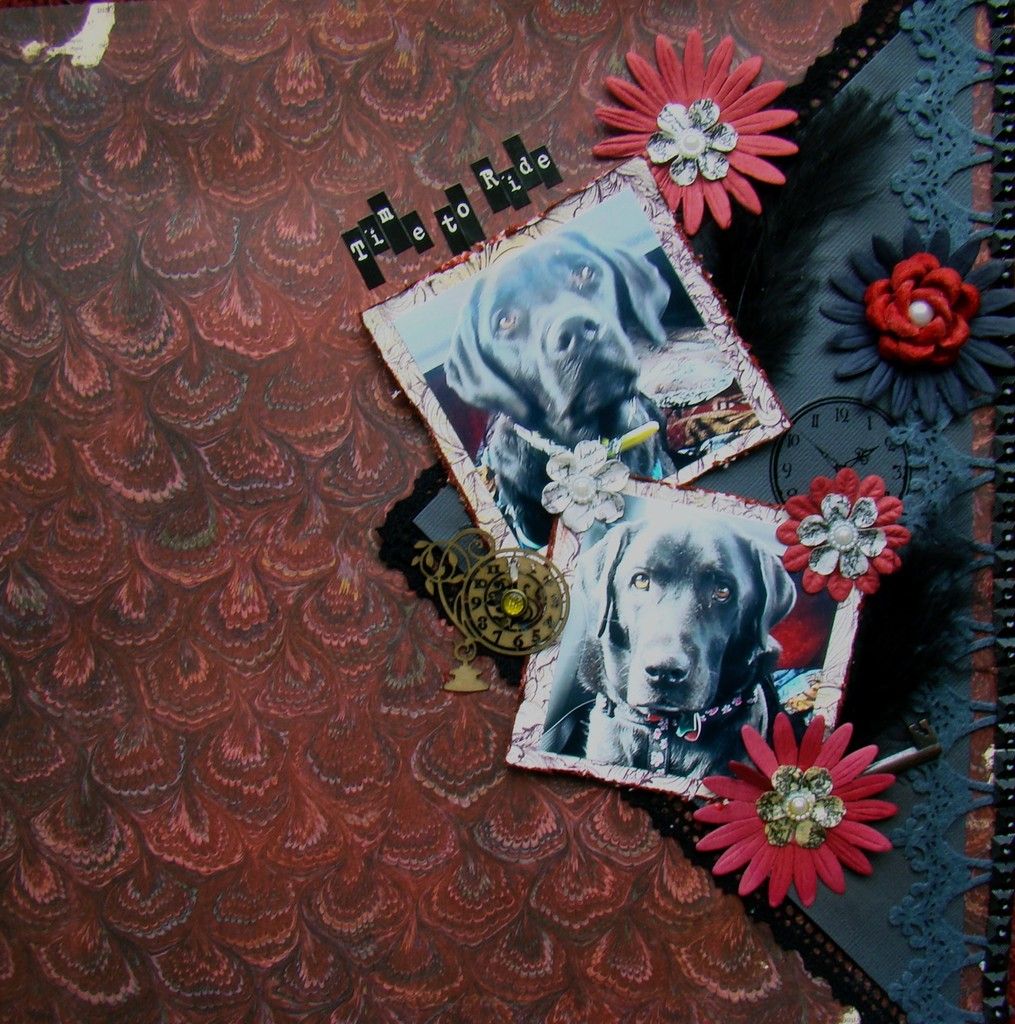 Every month there will be a new sketch challenge, SGC, Tag, Round Robin, and "All that Flutters" challenges.
Thanks for stopping by the blog today. Don't forget to check out the boutique to snag your kit today. Sold Out? Become a subscriber and never miss another perfectly coordinated kit again. How do you do that? See below.
If you're ready to start getting perfectly coordinated, top of the line scrapbook kits delivered to your door, please visit us at www.swirlydoos.com. Mention my name (Jan Penny) when you subscribe and you'll receive 10% off your first kit, AND a coupon good for 30% off your entire purchase in the Swirlydoos.com store!